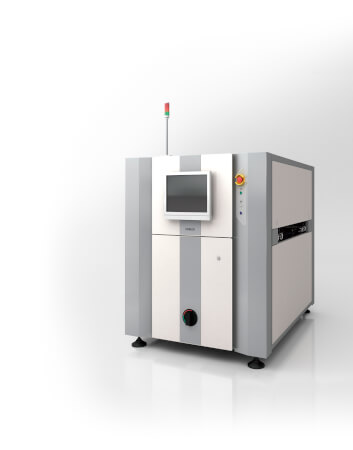 VT-S530
Omron VT-S530 is Industries Highest Value Full 3D-AOI System.
The VT-S530 provides Full 3D-AOI capability, High performance, Highest First Pass Yield, Zero Escape and lowest False Rejects amongst other strengths.
VT-S530 series with Pre - Post Reflow configurations have been widely adopted in production lines where high value and quality control is required. VT-S530 Series uses a combination of Phase Shift and Omron's unique color image processing technology called "color highlight ™ 3D shape reconstruction technology", providing the highest accuracy in Solder Joint Inspection called 'SJI'.
The technology available on the VT-S530 has been proven ultra-performant on the existing VT-S730-H with which it is sharing the new Image-Capture Module.
How can we help you?
If you have a question, please contact us or send a request.
Features
Built Upon a History of Innovation and track record of High-Quality Solutions
High Speed Top View 12Mpix Camera with Telecentric Lens
Latest 3D Programmable DLP Projectors (25mm max Height Inspection)
Omron's Unique Color-Highlight Illumination Technology
Single / Dual Lane and Pre / Post Reflow configurations
Real 3D Image Technology for Component and High-Quality Solder Joint Inspection
Real-time Interactive 3D data feedback to the Programmer
View and edit samples of all parts on the board simultaneously (in real-time)
Process histograms are created automatically for all inspection tests and components
AI self-optimization tools can perform automated inspection logic and criteria changes
Real defect images can be stored in the library and used to improve the tuning process
Consistent and quantitative inspection tests and logic across all component types
Full 3D Data Processing and realization of Industrial 4.0 Smart Factory Solution
Industrial 4.0 connectivity with The Hermes Standard for Full M2M Connectivity.
Omron Q-upNavi: Combine SPI, AOI and AXI Inspection Result Data for True Root-Cause Process Analysis for Process Improvement.
VT-S530 is the latest 3D-AOI technology providing versatility for the Highest Value Quality Solutions, combining Highest Capability and Speed on the market, for tomorrows production environments.
Videos
VT-S530 3D AOI Pre Post Reflow Machine
With the ability to perform pre or post reflow inspection, handle large format samples, and optional dual-lane configuration, the VT-S530 handles any production environment. Built-in 3D and 2D inspection technologies measure ensure every solder joint while adhering to industrial IPC. Watch this Video showing our S530 and its main features and applications!