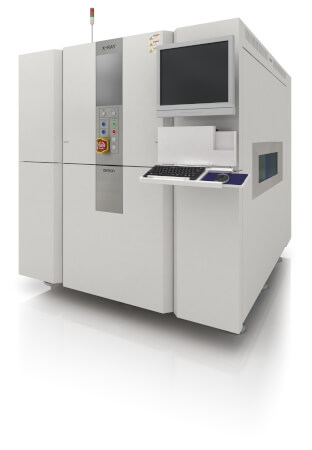 VT-X750
New In-line Automated X-Ray Inspection System.
Omron brings AXI performance to a new higher level with the New VT-X750.
VT-X750 is designed with the philosophy to achieve Zero Defect process lines.  Traditional X-ray technologies are limited to inspect components like BGAs, LGAs or THT.  VT-X750's design overcomes these traditional shortfalls by incorporating high speed 'Computed Tomography' (CT), providing high-precision X-ray imaging to perform precise and reliable inspection of those hidden soldered areas during production. Combining Computed Tomography with High-Speed image capture and processing, VT-X750 delivers the highest-level inspection capability, targeting the High-Quality Manufacturing Market.  VT-X750 high capability will inspect accurately and reliably, soldered defects such as Head in Pillow and Voids within BGA, LGA, THT and other discrete devices.
Technological improvements provide 2 times faster cycle times than its previous model VT-X700, are key for modern day in-line manufacturing processes.  New software design incorporates unique AI functions that reduce programming time by 5 times faster.  Whereas current logics require operators to manually find for example the lead edge, it is now found automatically.  Other targets for AI are improvements regarding stability of inspection programs by automatic extraction of components position for accurate measurement.  Automatic creation of component library such as BGA, and capture criteria settings for fine tuning, all allowing Program Creation of L-Size PCB's within 30 mins.  Software will adjust the contrast image by automatic adjustment of voltage and currency of the Xray tube, exposure time and CT value.  VT-X750 unique highspeed CT based Inspection system is designed for todays in-line manufacturing process lines. 
How can we help you?
If you have a question, please contact us or send a request.
Features
VT-X750 is the latest 3D-CT AXI Technology on the market, providing High-Quality Solution for tomorrows production environments.
Industries Highest Performing 3D-AXI System:
Built Upon a History of Omron's High-Quality Innovation Solutions.
Fully Automated 3D CT X-Ray Inspection incorporating new AI functionality to support Automated Programming, Fine Tuning, Library creation and Optimization of the CT Image.
CT Technology is Providing Advanced Inspection for Constraint Free PCBA Design.
Automated Logics combining IPC Standards with Advanced AI Driven Easy Programming Function. 
Fully off-line Programming and Tuning capability for the In-Line Process, without Disturbing Production. 
Complete Inspection Logics for all PCBA devices such as BGA, µBGA, LGA, Flip Chip, PoP, QFN, THT, Press-fit and all discrete devices.
Full 3D-CT Data Processing and realization of IoT for Manufacturing as found in Industrial 4.0 Smart Factory Solutions.
VT-X750 is compatible with Omron Advanced Process Software Tools with the goal to achieve Zero Defect Manufacturing.
Omron Q-upNavi: Combine SPI, AOI and AXI Inspection Result Data for True Root-Cause Process Analysis for Process Improvement.
Omron Q-upAuto: Advanced Manufacturing Analysis Combining Q-upNavi Inspection Result Data, with Manufacturing Process Data for High Level Process Improvement.
VT-X750 is the latest 3D-AXI technology on the market, providing High-Quality Solution for tomorrows production environments.
Videos
VT-X750 PCB X-Ray inspection machine
The VT-X750 improves upon our previous 3D-CT technology making it one the fastest X-Ray inspection system to date. The automated inspection logic has been improved for many parts such as IC heal fillets, stacked devices (PoP), through-hole components, press-fit connectors, and other bottom terminated parts. Increasing automated inspection speed and expanding inspection logic enables full, in-line inspection coverage by the 3D-CT method.