Omron advances AXI performance to a new higher level with the New VT-X750-V3 AXI System
On November 2021 OMRON Corporation has released globally the new VT-X750-V3 system, the Latest Generation In-line Automated X-Ray Inspection System.
The VT-X750-V3 delivers advanced, true 3D inspection of electronic substrates to meet the growing needs of fifth-generation mobile communication systems (5G), electric vehicles (EVs), and autonomous driving application products. More in detail, it is used for non-destructive inspection of 5G infrastructure/modules and in-vehicle electrical components as a high-definition/high-quality inspection using full 3D-CT.
In recent years, the VT-X750 has been used for inspection of defects such as head-in-pillow, solder voids and solder filling of through-hole connectors in final assembly of BGA and LGA, power devices such as IGBTs and MOSFETs, which are essential for EVs, as well as Integrated machine and electric power. It has also been widely utilized in the fields of aerospace, industrial equipment, and semiconductors.
The New VT-X750 improves upon previous Omron 3D-CT technology making it the world's fastest (*1) CT-type X-ray inspection device (*2) in the market to date.
The automated inspection logic has been improved for many parts such as IC heal fillets, stacked devices (PoP), through hole components, press-fit connectors, and other bottom terminated parts. Increasing automated inspection speed and expanding inspection logic enables full, in-line inspection coverage by 3D-CT method.
OMRON's unique 3D-CT reconstruction algorithms provide excellent solder shape recognition and defect detection. Quantitative analysis allows for an automated inspection process which minimizes the risk of escapes while providing fast and repeatable operation. Dense and dual sided board design can provide challenges for X-Ray inspection. However, Omron's 3D-CT technology can overcome such design restraints.
(*1) As a full 3D CT-type X-ray automated inspection system, it is the world's fastest in the substrate inspection industry, according to OMRON's research as of October 2021.
(*2) CT (computed tomography)-type X-ray automatic inspection device: Inspection device equipped with technology to capture computed processing data of 3 dimensional images when capturing the image of continuous cross-sections inside of structures that are invisible to the human eye using X-rays. The same technology as CT scanning systems utilized by medical institutions.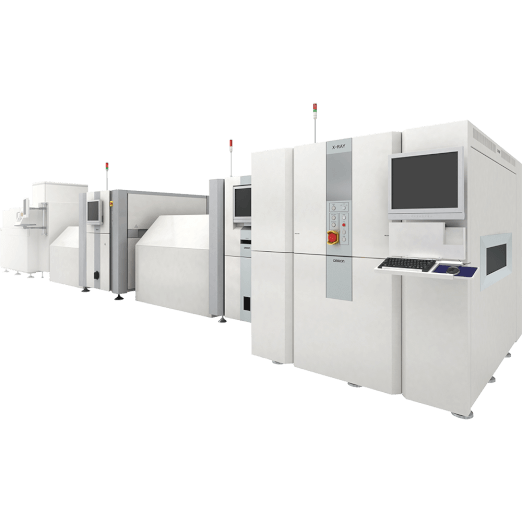 Learn more about 3D AXI VT-X750
More info about the New VT-X750-V3 AXI System
Follow OMRON Industrial Automation Europe on Linkedin