From April 13th to 15th, OMRON Inspection Systems Division High value Partner in Russia, Global Engineering exhibited at "ELECTRONTECHEXPO 2021" in Moscow.
ElectronTechExpo is the only International Exhibition of Technologies, Equipment and Materials for electronic and electrical industries in Russia.
Participation in ElectronTechExpo provides an opportunity to demonstrate products in short time to a large number of representatives of industrial enterprises, trade organisations and institutions interested in acquiring it.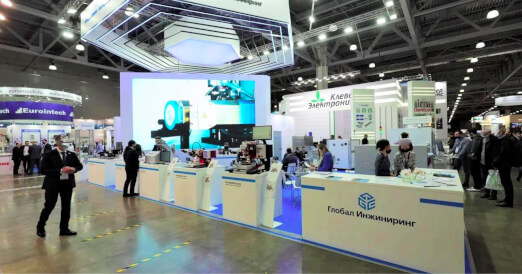 The electronics industry is one of the key segments of the modern industry in Russia. The market size of the Russian market of electronics systems is expected to grow more and more by next few years.
Global Engineering were able to talk with a very high number of visitors really interested in one of our exhibited 3D AOI, the VT-S530.
Thank you very much for visiting us and for your interest in our products and services!
Follow Omron Industrial Automation Europe on Linkedin